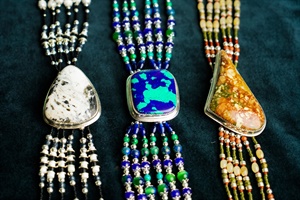 BOLA - TRIPTYCH
WHITE BUFFALO TURQUOISE (Nevada)
MALACHITE/AZURITE (Mexico)
ROCKY BUTTE JASPER (Oregon)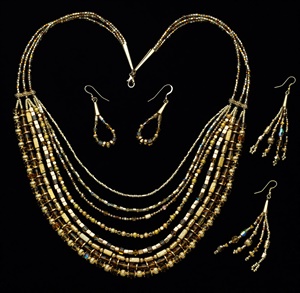 SONORAN SUNRISE
Inspiration: The sunrise looking east from Sentinel Peak.
Multi-strand necklace with 10 graduated strands in gold, brass, and amber beads.Total length of longest strand is 30" finished with cones and lobster clasp.
Materials include bicone, diamond- and round-cut crystals, opaque gold and crystal cubes, Miyuki and Spectra glass beads,filigree spacers,and fire-polish crystals. Earrings are designed using gold-filled earwiresn styles.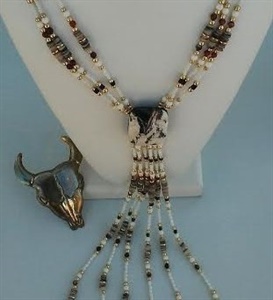 GHOST DANCER
White Buffalo bola set in sterling with shell heishe, faceted crystal,jasper, white jade and jet.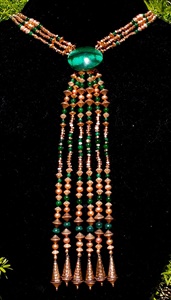 COBRE VERDE
Malachite cabochon disc designed with Balinese copper, malalachite and freshwater pearls.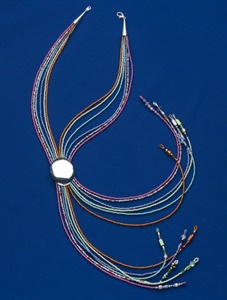 RAINBOW REFLECTION
Glass, crystal and sterling necklace in a bola tie style.
The concho is crafted by Contreras Fine Arts
AGE OF BRONZE
Inspiration: the bronze/green flash sometimes seen at sunset at the Gulf of Mexico.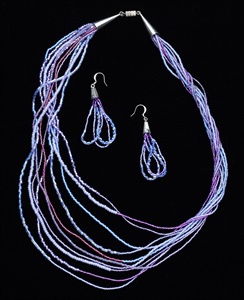 WILD IRIS
Inspiration: Wild iris found by the banks of the Santa Cruz in Sonoita.
Multiple 10-strand necklace ranging from 22"-25" in length. An offset design in shades of lavenders and purples made with a combination of Japanese Delicas, hex and cut-glass beads of various sizes.
The companion 2" earrings feature crystal accents and Hill Tribe cones.
*This necklace can be worn in multiple ways...twisted, loosely draped, or in a combination as shown.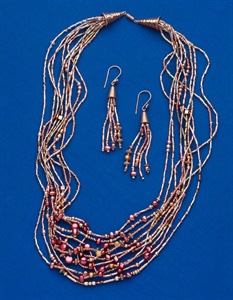 COPPER QUEEN
Inspiration: The Copper Queen Mine in Bisbee,Arizona.
This patterned necklace consists of ten graduated strands of copper beads, Japanese Delicas, native American heishe, and 35 matched freshwater pearls,with strands from 20"-25" long.
The work is finished with pure copper cones.
The earrings are made up of copper and brass beads, bugles,and pearls.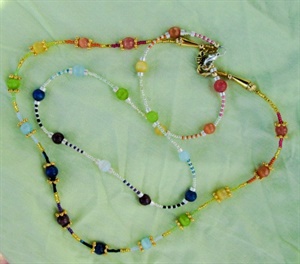 CHAKRAS
Two chakra necklaces with sterling, glass and "cats-eye" chakra beads. Custom orders are welcome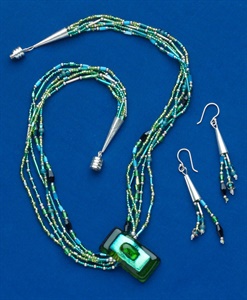 SEA OF CORTEZ
Inspired by the colors found in the Gulf of Mexico. Each necklace has 5 strands of glass, silver, crystal and turquoise heishe, with the fused pendant serving as a as a focal point.
Each pendant is unique, creating a OOAK piece.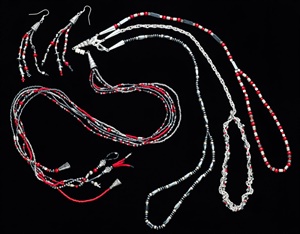 DIAMONDBACK
Lariat-style design made up of sterling, hematite, coral and beads.
The lariat chains are interchangeable...you can wear any one,two or all three at once!
This necklace can also be worn as a choker.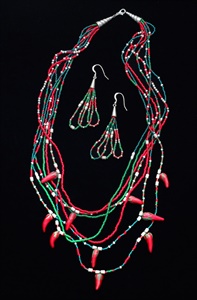 SALSA
Inspiration: The Mexican flag, and of course, Salsa!
Seven strands in a symmetrical pattern of red, dark green and silver, along with coral heishe, sterling
and Fimo "chiles".
The "chiles" are handmade by a local clay artisan. Strands range from 22" - 25" in length.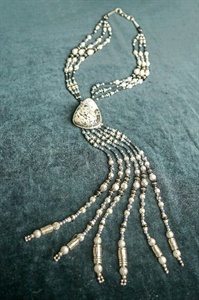 WHITE BUFFALO #2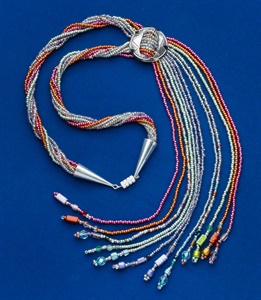 RODEO RAINBOW
Symettrical 18" long glass, silver and crystal beads designed with a rounded 1.25" bolo. The twisted beads above the bolo create a choker look, while the lower section is freeform style. Each side consists of 7 strands on wire with a plated concho and sterling cones.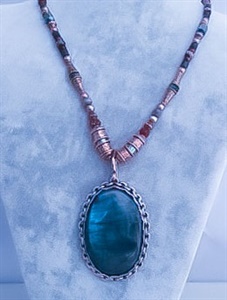 SUENO de COBRE
Labradorite pendant (36 gr) set in open bezel inspired by vintage Taxco jewelry. Beads include copper, labradorite and sterling.

MILAGRO de MADAGASCAR
Russian serbinite, druzy, hematite, pyrite, resin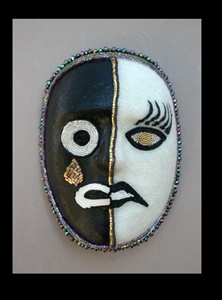 KREWE OF KATRINA
Full-sized mask designed to benefit the Tucson
Community Food Bank.
Featured at the 2012 Mardi Gras Gala